NORTHBOUND
~ THOUGHTS ~
Sorry I have been a bit quite on here. I have been doing a lot of thinking about my past, present, and where I want myself to go in the future. To do that I had to take some time to myself and really break down who I am and what is important to me. I had to outline my goals and how I can get to them. 2018 is going to be a big year for me. I am working on refining myself and my craft, being true to myself, and focusing on quality over quantity. One of my main goals moving forward is to produce the best imagery, video, and content possible. To do well thought out ideas, adventures, and expeditions and present them to you in a way where you are not only entertained, but even more importantly- educated and inspired. I want to plan out bad-ass trips like this one where all I have to worry about is doing what I love and creating along the way.
I also want to share more about my life and how I got to where I am, and inspire you my friends- to keep bettering yourself in your work and as a human. It is awesome to do cool things and take cool photos, but what is even cooler is if you are giving back and helping others- spread the love. I want to create tangible things, not just imagery that lives on social media. You can expect to see things this year from me like travel guides, products and merchandise, and more focus on my YouTube channel and short films. I plan on hosting events and doing my first art show. The sky is the limit if you believe in yourself, and I am believing more than ever.
Another goal of mine this year is to give back more. To partner with companies and initiatives that I truly believe in and will do better for the world. I am planning on getting involved in several different charities and organizations that are focused around the ocean and our environment. Surfing had been the biggest part of my life ever since started at age 12 and I want to use my background in surfing and with the ocean, and my creative work to give back and educate the world. Our environment needs more help than ever I hope to shed some light on this.
For this trip to Big Sur I partnered with Nautica. They made this trip a dream- they gave me the freedom to plan and produce everything and I cannot thank them enough for that. Nothing feels better then having a vision, working with a company you like, and having full control over what happens.
The following trip is the first trip where I started adapting this new mindset I have about work and life. I wanted to do a trip that was true to myself and also created meaningful content. I spent two days zig-zagging among the beautiful ocean roads of Big Sur and stopping along the way at any point that caught my attention. This trip is just a mild introduction into what I have planned. I plan on putting out a mini magazine about this trip full of tips and tricks that you can use if you ever find yourself wanting to go to Big Sur. You can expect more crazy trips in the future, an update on how I layout my blog posts, and a slew of other awesome things that I think all of you will really love.
Thank you for following my adventures thus far, the best is yet to come. <3
xX,
THE CAPTAIN
~
In 2017 there were huge landslides in Big Sur that shut down many of the routes throughout the beautiful coastline. Over a year later and they are still repairing certain parts of it. The southern most entrance via Pacific Coast Highway is still closed off, so if you come from the south you must take a crazy, windy road in through the valleys and canyons. I was weaving so carefully along the cliff edges, trying to dodge the cliffside and make my way around oncoming traffic on a road that is barely big enough for two cars. I came across this HUGE redwood tree that had fallen across a little valley and formed a natural bridge. I had to stop and give it a go.
~
As soon as I caught sight of the sea, every bend in the road provided another epic photo opportunity. I couldn't count the amount of times I pulled over for a photo on both of my hands- I must have pulled over at least 50 times throughout the two days I was there.
~
On day 1, I arrived to the Big Sur coastline just before sunset. I came across a bend in the road where the sun was shining through in the most perfect way and had to stop for a little skate.
~
After my little skate, I booked it to our campsite at Ventana Campground to setup before dark. If you have ever had to set up camp in the dark, you know how much of a pain it can be. The campground was rad! I set up camp beneath the cover of redwood trees and started a fire to warm up. The temps dropped to about 40F that night.
~
I woke up the next morning and packed up as fast as possible so I could make the most of my only full day in Big Sur. After packing and a quick coffee, I was off on the road again. Another bend, another photo op. Road trip vibes were in full effect at this point.
~
After a few more roadside photo ops, I made my way to McWay Falls. If you are in Big Sur, this is a must see. To be honest, I had seen so many photos of this place before visiting it that I didn't have the biggest desire to see it. I am so glad that I decided to stop and see it, it is EVEN better in person. It is truly one of the most beautiful coves I have ever seen.
~
Going into this trip, I had this image in my mind of this perfect, rocky headland jutting out into the deep blue Pacific Ocean, with a cove and waves peeling off into the distance. I was getting antsy halfway through Day 2 when I hadn't quite come across this perfect image in my head. Shortly after I gazed right as I was driving and saw something that might just be it. I pulled off the side of the road to get a further look. However there was one thing standing between me and my perfect cove- a rusty ass gate with a lock on it. If you have been following my adventures, you know that I have no problem climbing, hopping, or jumping things. So climbing, hopping, and jumping I went.
~
And because when you find one of the most epic places you have ever seen... and you see waves... you run!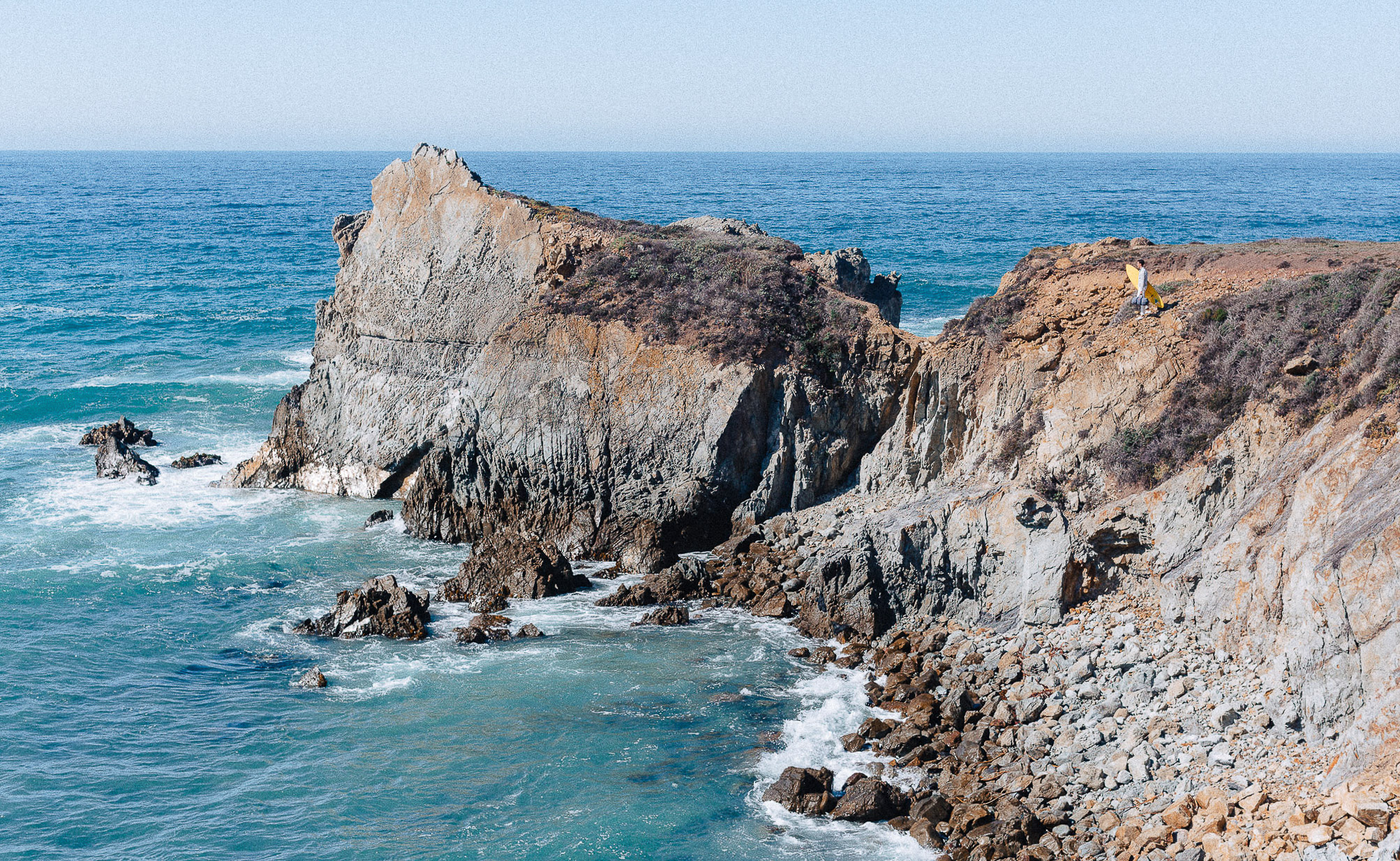 ~
The water in Big Surf was somewhere in the 55F range. Hard to say exactly. I wore a 3/2mm suit that kept me plenty warm. You would probably want to wear booties to keep your feet warm, and help with all of the rock walking, but I forgot mine. I grew up surfing in Maryland and the water got as low as 35F (nearly freezing!) in the winter, so I am used to surfing cold water.
~
The waves weren't the greatest, and I didn't have the ideal surfboard, but nothing beats discovering a new wave and surfing it by yourself. I mean who knows when the last time someone surfed that cove was?! Could have been never. Maybe I should have named it? Also, the climb down the cliff to the water, and back out was pretty crazy! I nearly slipped and fell several times. Check me out climbing up the cliff face in the one photo.
~
Nothing feels better after a surf, then a nice meal. We came across the most epic restaurant overlooking the Big Sur coastline called Lucia Lodge. You have to stop by this place if you find yourself in Big Sur. They have the most epic sun-soaked patio with a view. They have a nice indoor dining room too. I got the California Sandwich and an Arnold Palmer and took in the the beauty surrounding me.
~
After lunch, it was time to head out of the Big Sur area to the south to Morro Bay to catch the sunset. But, not without one last skate!
~
I got a little carried away with skating and lost track of time. I had to book it down to Morro Bay, and made it literally as the sun was setting. I couldn't have asked for a better way to end this trip.
~
Additional sights and scenes from the Big Sur coastline ~
Another huge thank you goes out to Nautica for making this expedition possible. I was pleasantly surprised with the fit and functionality of the clothes, and they styled perfectly for all the shots I had in mind on this trip.
I can't wait to do more trips like this and I am looking forward to incorporating giving back and charity into them. Comment below and let me know any questions, thoughts, or suggestions you have. I'm happy to answer questions about anything from Big Sur tips to camera equipment. Like I said I would love to put together a mini magazine documenting this trip with tips, tricks, and hot spots to hit. More or less a travel guide. It would be awesome to do that for all of these trips I do. Let me know if that is something you would like.
CAPTAIN BARTO ✖️
DO COOL THINGS ~ TAKE COOL PHOTOS.